Joke Folmer (dec. Dec. 10, 2022, age 99)
Resistance fighter Joke Folmer (99) from Schiermonnikoog passed away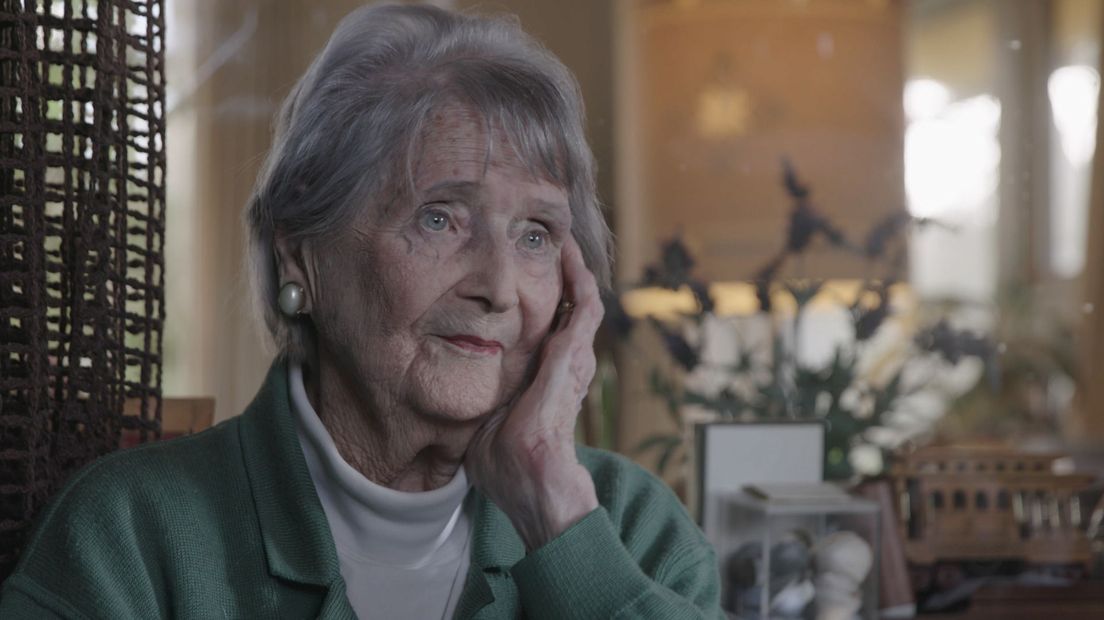 Joke Folmer© Thom Verheul   (December 12, 2022, Omrop Fryslân)
Former resistance fighter Joke Folmer (99) passed away on Schiermonnikoog. She was one of the last living resistance fighters in the Netherlands.
Joke Folmer was also called the errand girl of the resistance. As a young girl, she brought hundreds of people, mostly Allied pilots, to safety during the war.
Later they committed themselves on Schiermonnikoog to reconciliation with the war past. Joke Folmer received a high American decoration for her resistance work in World War II, the Medal of Freedom.
She also ensured that memorial stones, Stolpersteine, were placed at island houses where Jews lived during the war. A memorial stone was also placed in front of the house of Rosette Bannet in Zeist, Joke's school friend who was murdered in Auschwitz, at the end of March.
Watch a Fryslân DOK about Joke Folmer here.
See also:
Joke Folmer (1923-2022) had no choice but to join the Resistance: https://www.nrc.nl/nieuws/2023/01/19/joke-folmer-1923-2022-kon-niet-anders-dan-in-het-verzet-gaan-a4154678. Joke Folmer smuggled some three hundred Allied pilots and Jews across the border.

 She herself narrowly escaped the death penalty.  By Friederike de Raat.  

Without realizing it, Joke Folmer, as an 18-year-old student of the Christelijk Lyceum in Zeist, joined the resistance. When her Jewish best friend Rosette Bannet was no longer allowed to go to school by order of the occupying forces, Joke brought her homework at the request of the math teacher. When the Bannet family had left one day and could no longer be traced, the same teacher, who was in the resistance like many colleagues and (former) students, asked whether Joke would also deliver other packages. In the 2009 TV series The War , she said: "If it was a light package, it was usually ration cards. And if it was heavy, it was probably ammunition or a gun or something, you didn't know that."

Joke Folmer became one of the most important 'smugglers' of the Dutch resistance. It is estimated that she helped some three hundred people across the border, many of them downed Allied pilots and Jews. It would later earn her national and international awards, including the Medal of Freedom, the Bronze Cross, the Resistance Memorial Cross, the Croix du Combattant, the honorary citizenship of Toronto and the medal of honor of the municipality of Schiermonnikoog.

In April 1944 Joke was arrested and imprisoned in the Oranjehotel in Scheveningen. As a pastime, she scratched into the walls with a paper clip. "Fortunately, the Germans only knew that I had helped five Englishmen," she later recalled. Nevertheless, she was sentenced to death.

Mad Tuesday, in September 1944, was her salvation: many Germans fled from the advancing Allies. Joke and a number of fellow prisoners had to go to Germany. They belonged to the ' Nacht und Nebelgruppe ', a special class of resistance fighters, who had to disappear without a trace. Folmer spent nine months in various German prisons. The trial papers with the death sentence were always forwarded, but never reached Folmer in time.

She was eventually liberated by the Russians in a prison near Dresden. On their arrival, a French prisoner of war raised the Marseillaise, she remembered many years later. "I never had nightmares, but I did have daymares," she said in an interview with the Social Insurance Bank (SVB), which provides benefits to war victims. "And I can't stand a room without a window, the smell of swede or crowds."

Parachute

In 1950 she married a man who had also been active in the resistance. Her wedding dress incorporated a strip from the parachute she had received from a rescued pilot as a thank you. The couple had five children and took in five foster children.

Joke, who works for Child Protection and the foster family center, is described by acquaintances as a caring woman who always wanted to give everyone a safe place. "A woman with a strong will, who radiated authority," says historical researcher Dick van de Kamp, who has written books about Zeist resistance fighters and is working on a book about Folmer, which he visited several times. "She was known as a woman who helped others selflessly. She was a member of the Consultative Council of the 1940-1945 Foundation. He advised on benefits to resistance fighters and surviving relatives." After the war, she testified before the parliamentary committee of inquiry into government policy during World War II.

Vera Lynn

After her divorce, Joke Folmer settled permanently on Schiermonnikoog in the late 1970s, where she had spent many holidays with her family. Around that time, the war again played a major role in her life. She started giving lectures at schools, attended memorial meetings and gave many interviews about her resistance work. In one of them she said: "I loved to pull out that parachute and … pass on my story. Students often asked me, "Would you do it again?" 'Yes,' I always replied, 'I couldn't help it.'"

She maintained many contacts with (descendants of) people she had helped during the war, says director Thom Verheul, who also lives on Schier and who made the documentary Grocery Girl of the Resistance about Folmer's life. "For example, she brought them into contact with people who had helped them at the time. And to locations where they had been in the war. She was a connector and modest about her role in the war. "I could, so I did," she said.

Folmer was also friends with the British singer Vera Lynn, also decorated for her role in the war. Once when Folmer was at a memorial service in London, Queen Elizabeth II sat down next to her. In the interview with the SVB, she said: "She asked where I came from and inquired about my resistance past." Of her own wartime years, the Queen told Folmer that she had repaired cars during that time.

Joke Folmer also took on the organization of the 4-5 May commemoration on Schiermonnikoog. In her own, forgiving way: victims of various nationalities were commemorated and many national anthems were played, including the German one.

She also reconciled with her cousin Jan Folmer. In her youth in the Dutch East Indies, where her father worked on a sugar plantation, Joke had had a good relationship with Jan. It ended when her cousin opted for the Waffen SS. Both tell their story in the book The resistance woman and the SS man , by Peter Gerritse.

Throughout her life, Joke Folmer continued to struggle with the question of what exactly had happened to her childhood friend Rosette Bannet, says researcher Van de Kamp. The entire Bannet family – father, mother and four children – were murdered in Auschwitz, Rosette on August 31, 1942. In November 2022, Van de Kamp handed over a copy of a memorial stone that had been placed at the house of the Bannet family in Zeist at Folmer's house. "I don't know if she still saw it, so close to her death."

Joke Folmer passed away on December 11, 2022, at the age of 99. At the funeral, the pastor told the story of the Good Samaritan with whom Folmer, who lives on Reddingsweg, had so many similarities.